Painting Prices in Queen Creek, Arizona
Are you wondering how much painting services in Queen Creek, Arizona cost? Pricing varies, of course, but if you're looking for a solid painting contractor in Queen Creek at a price that is fair, you've just found them! At Henry The Painter, we like to assess the scope of the job at hand before quoting a price. We believe every painting job is unique, just as every surface is unique. Whether you want a price to paint the exterior or your Queen Creek home or just touch up the trim and front door, we'll assess the work requested and readily give you our best price.
We treat every painting or staining job as if our reputation depends on it (because we know that it does). The pride we take in our work shows in everything we do, but giving all our customers value for money is very important as well. While you might be able to find a cheaper painting contractor in Queen Creek, pricing generally reflects skill level and quality. We know you won't find a higher quality Queen Creek painter with the great pricing Henry The Painter can deliver!
---
Call for Queen Creek Painting Prices
---
Our Queen Creek Painting Pricing Process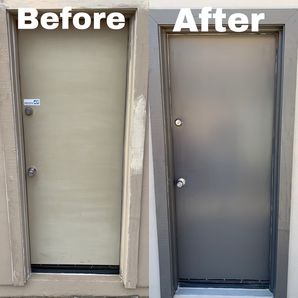 Rather than giving our customers a list of set prices, we follow a consistent and fair pricing process. After an initial phone discussion, we'll schedule a convenient time to visit you in person, whether at your home where the work will take place. We'll listen carefully to your painting requirements. We'll take time to consider both the space, the materials needed and any other factors that may impact pricing the job.
Once you're happy that we have considered all aspects, we'll then calculate the cost to paint your Queen Creek home. We'll provide you with a free written estimate as soon as we have it, although we don't like to rush such an important task.
The quote you receive will be based on a range of factors, including the required timescale, the nature of the work and the caliber materials you are looking for. For example, if you wish to change the color of your home's exterior, in Queen Creek the cost will be a bit higher than if you wish to stay close to the current color. Wherever possible, we will work within the confines of your budget, but we'll always be honest and upfront with prices.
We will guarantee this: Henry The Painter always strives to complete work on time and within the established budget. Once we've given you a written estimate, you can take it to the bank!
---
Get Painting Prices Now
---
The Best Painting Value in Queen Creek
Our experienced Queen Creek painting contractors are not only highly skilled and conscientious, but they provide painting services in Queen Creek at a great value. Over the years, we've successfully completed just about every imaginable type of painting project. There is no painting job we can't take on successfully.
While we don't claim to be the cheapest painting service in Queen Creek, we honestly believe we're the best. Call (480) 536-6480 and you will be in touch with a team that values attention to detail and building trust. We never cut corners to save time or money. Our reputation (and your home) is simply too important to us.
If you are looking for a Queen Creek painter for a cost-effective and high-quality job, call (480) 536-6480 for the best painting value in the area.
---
Call for FREE Painting Prices Quote
Dial Area Code first please.
---
WHAT CUSTOMERS ARE SAYING:
5★★★★★ - "Excellent experience regarding our exterior house paint job with Henry the Painter! From the prompt response obtaining a quote at a very reasonable price, to scheduling the job much faster than expected, and working with a very experienced crew, we were very happy with the results! I highly recommend Henry the Painter for any of your painting needs!"

Patty Forte

2023-03-05

5★★★★★ - "Henry was so easy to work with and very professional. Francisco did an amazing job on our baseboards. Turned out beautiful. Highly recommend him for any paint job you may have. Will definitely use again in the future and refer to friends.
Thanks, guys!!!"

Melody Y in San Tan Valley, AZ

2023-02-09

5★★★★★ - "Frank and his team did an amazing job! Their preparedness to the project was beyond par. We had new stucco applied to our older home which come to find out makes it even harder to paint. Upon noticing the appearance of the home by Frank and his team, they went ahead and applied another coat of paint to the stucco to give our home that desired curb appeal at no extra cost!!! They definitely have the customer's best interest in mind and our home is what we envisioned. Thank you, guys!!! When deciding to paint our concrete fence, we are definitely calling on Harry the Painter."

Scott in Phoenix, AZ

2022-09-08

5★★★★★ - "Henry's crew is amazing. From prep to paint to final clean up. I'm an auto body refinisher so I pay close attention to detail. They did a great job! I would highly recommend Henry and his crew."

Dwight Yanke in San Tan Valley, AZ

2022-03-14

5★★★★★ - "I'm very pleased with the recent exterior house painting performed by Henry the Painter.
I highly recommend them."

Jerry Zubke in Gold Canyon, AZ

2022-02-15

5★★★★★ - "Very professional, prompt, gave a firm bid, and followed through on all our needs. We would highly recommend and would not hesitate to use again.
His crew was also very respectful to us and our home."

Larry and Janet Lindberg in San Tan Valley, AZ

2022-01-06

5★★★★★ - "Henry and his crew were awesome to work with! He was recommended to me by a friend when I was looking to have the exterior of my house painted. His prices were fair, and the work was very well done and very efficient. He was very flexible with scheduling and worked with me to ensure my house met the standards required by my HOA. He and his crew were prompt, respectful, and I was very happy with their work. I would highly recommend this company!"

Stefanie

2021-09-16

5★★★★★ - "We saw a home in our neighborhood and was impressed with the quality workmanship and appearance of the finished job. Decided right then to have our home and yard wall painted. Henry was fair in pricing and helpful in suggesting colors. Wouldn't hesitant to use Henry The Painter again."

Doug Craig in San Tan Valley, AZ

2020-08-27

5★★★★★ - "Henry and the team were wonderful to work with. The job was completed with quality and care. After having many not so good experiences with contractors, Henry and the team are amazing to work with. They are professional and provide the highest quality of workmanship. They are the only company I will use for all my painting needs. I highly recommend them."

Pattie in San Tan Valley, AZ

2020-06-12

5★★★★★ - "Excellent, quick and professional. Did a great job on the interior of our house. I highly recommend them!"

Yasmine Baca in San Tan Valley, AZ

2020-05-12

5★★★★★ - "Henry & Frankie have a very professional painting crew. Their detail in preparation is methodical; we really enjoyed watching the power washing. The paint selections and schemes available are extensive, and their relationship with the Johnson Ranch HOA is on a first-name basis. Overall, Henry, the Painter is personal, convenient and $ competitive."

Robert Z in San Tan Valley, AZ

2020-03-03

5★★★★★ - "He and his crew did an awesome job painting the entire exterior of our home. I was not in the state at the time and he kept me informed and sent multiple texts and pictures of the progress. They showed up on time and were very neat and professional. Cleaned up everything after the job and only asked for payment when the work was completed. They also had some repair work to do prior to painting and did an excellent job on that also. I will definitely use them again !!"

Angie M., Exterior Painting in Chandler, AZ

2019-08-28

5★★★★★ - "I can not say enough great things about Frankie and his crew. Very business-friendly, time-efficient, excellent value, and most of all quality service. After discussing the exterior paint job with approximately 10 companies, Frankie acted like he wanted my business the most and I can't be anymore happier with my choice. They went above and beyond my expectations. As long as they are doing their thing, they will have my business moving forward. Excellent job guys!!!"

Keith J., Painting in Chandler, AZ

2019-08-28

5★★★★★ - "Frankie and his crew painted our house last week and it looks GREAT. You won't go wrong using this company - they are professional, personal, very skilled and most importantly, they have integrity. They showed up when they said they would, returned calls/texts/messages, stuck to their quoted price and didn't ask for one penny until the job was completed!"

Ray T., House Painting in Chandler, AZ

2019-08-28

5★★★★★ - "Frankie (one on Henry's sons) and his crew did a great job with my new house in the 'Tukee. It was so easy. They did everything! Even helped me get my exterior colors approved by the HOA and talked to my neighbors to get their input on colors. I definitely recommend them."

Jerry A., House Painting in Chandler, AZ

2019-08-28

5★★★★★ - "THIS COMPANY IS SO RESPONSIBLE AND TIMELY THEY DID A BEAUTIFUL JOB 5 STAR COMPANY"

Jeannine D., Painting in Chandler, AZ

2019-08-28

5★★★★★ - "The price was better than any other estimate I got. Very thorough job and it looks like a new house. Definitely, recommend them."

Adam G., Painting in Chandler, AZ

2019-08-28

5★★★★★ - "Frankie and his crew did a great job on our house and we were very pleased with the quality and the price!!"

Marty P., House Painting in Chandler, AZ

2019-08-28

5★★★★★ - "Frankie was responsive, the crew was on time and professional, they did everything they said they would, cleaned as they went, provide a warranty and did not ask for payment until the job was done. They will be back to do the interior."

Bob B., Painting in Chandler, AZ

2019-08-28

5★★★★★ - "Our house looks 10 years younger! Thank you, Frankie Keith and crew, for a stand out job. It was especially helpful to access our HOA's approved paint colors through the Dunn Edward's website. I highly recommend Henry the Painter. They are professional, courteous, and the job was done to the highest standards."

Tamera P., House Painting in Chandler, AZ

2019-08-28

5★★★★★ - "Prompt, courteous, excellent customer service, can't say enough good things about our experience with Henry the Painter! We got an estimate one week and the job completed the next. The exterior of the house looks fantastic and we couldn't be more satisfied! We are already scheduling our next project!!"

Jetty-Anne H., Exterior Painting in Chandler, AZ

2019-08-28

5★★★★★ - "Great experience!
☑️ Clear Communication
☑️ Step-by-step process explained and followed
☑️ Efficient Prep and clean-up process
☑️ Competitive pricing
☑️ Pre-paint and Post-paint property walk-thru
☑️ Pleased with results"

Heather R., Painting in Chandler, AZ

2019-08-28

5★★★★★ - "I can't say enough about Henry. When it comes to house painting he and his crew are the best. We got a fantastic price and the workmanship was wonderful. They showed up on time and worked quickly and did not drag out the job. They did not skimp on the paint and our home looks a hundred percent better. Another perk about this company is that they warranty their work for two years. Their clean up after the job is great, if you need your home painted give Henry a call, you won't be sorry his work is terrific."

Suzanne W., Painting in Chandler, AZ

2019-08-28

5★★★★★ - "We are very satisfied with the exterior paintwork recently completed in our house. Frankie Keith and his crew of painters (Jose and Jenny) were very professional, nice and provided clean work. Every day they arrived on time and paid special attention to details and our requests. The prep work was really nice and they stick to the schedule. They really cared about our satisfaction, always accessible and treated us with respect. Francis came every day to check his crew and get our input about the work completed. We are very happy with the quality of their work at very competitive pricing. Thank you!!!"

Gretchen P., House Painting in Chandler, AZ

2019-08-28
---
Call for FREE Painting Prices Quote
Dial Area Code first please.
---